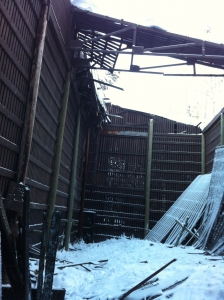 On January 5, 2014, MRWC staff faced a new challenge. An unusual build-up of snow, high winds and a fallen tree all added up to cause one quarter of the eagle enclosure roof to collapse, killing two eagles, injuring one and leaving us with the reality that we will have to raise the funds for a new enclosure.
We are happy to report that the one injured eagle did make a full recovery! After staff dug him out of the snow and lumber when only his foot was exposed, he is lucky to be doing so well. He has no broken bones and was only suffering from shock and cold. The other five eagles in the enclosure were not affected and have been moved into the north side of the cage which has been deemed stable.
A re-build the eagle cage fund has been set up and a plan is being formulated for a new and improved structure. If you would like to contribute, please mark your cheque donation as "eagle cage fund". You can also donate by clicking here and select this project in the donation allocation drop-down box.